Student Voices
1. Current Students
Name: Ms. Khin Yadana Kyaw
(International student from Myanmar / Entered school in 2021)
I belong to the Electric Power and Environmental Lab under the Electrical Engineering and Computer Science Division of Kanazawa University. I joined the ETIC program in 2021 in which the environmental-related lectures and special training activities are of great interest to me. Since I enrolled in this university, the continuous support of KU's faculty and administration enabled me to overcome my concerns as a foreign student. Additionally, the Integrated Japanese Language Program of KU is very beneficial for me to communicate in Japanese more smoothly in daily life. International Student Committee, GSNST, Kanazawa University also hosts many interesting events to support international students and newcomers like myself. Due to the modern equipment in the laboratories, I can be able to conduct my research systematically in advance. Every single day of my campus life at KU has been very wonderful. If you are considering choosing KU to continue your study, I strongly recommend you not to miss the chance. Warmly welcome from the bottom of my heart and see you!
Name: Mr. OTANI Kyohei
(Japanese student / Entered school in 2021)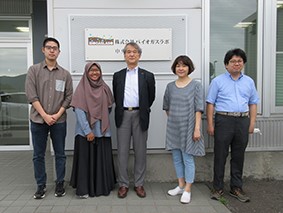 Joining ETIC course was a big challenge for me because I could not have communicated with lab members who are international students when I was an undergraduate student. Because of my inexperience in language skills, I had a hard time communicating with international students during group work in study camp, overseas training, and internship, but I was able to achieve results thanks to their efforts to communicate with me. After these lectures, I began to actively communicate with the lab members. This experience was not only an opportunity for to me learn English, but also brought about changes in my behavior in my research life. I highly recommend this course if you are in the same situation as I was an undergraduate student.
2. Students who completed the course programs
Name: Mr. ZAI Yinghan
(International student from China / Completed the 2022 Environmental and Energy Technologies International Course)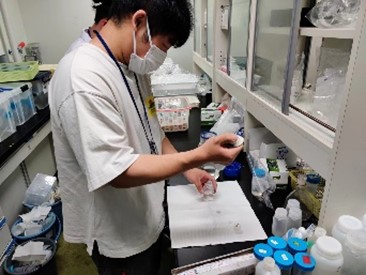 The first time I came to Japan, and I haven't started classes yet, so I feel very nervous. My Japanese wasn't very good at that time, so I was worried that I might not be able to understand the course. However, the teacher was a good teacher and explained in English what I couldn't understand in Japanese. The class was also very active and the students need to interact frequently, it is very useful for me learn Japanese. I also participated in an internship, learned about Japanese society and corporate culture.
In the life of the laboratory, professors and students are very friendly, and there are many activities in our laboratory. There are also international students from other countries in our lab. Interacting with them is very helpful in speaking English and also very interesting to learn about the cultures of different countries.
Name: Mr. MOCHIZUKI Ryota
(Japanese student / Completed the 2020 Environmental Technology International Course)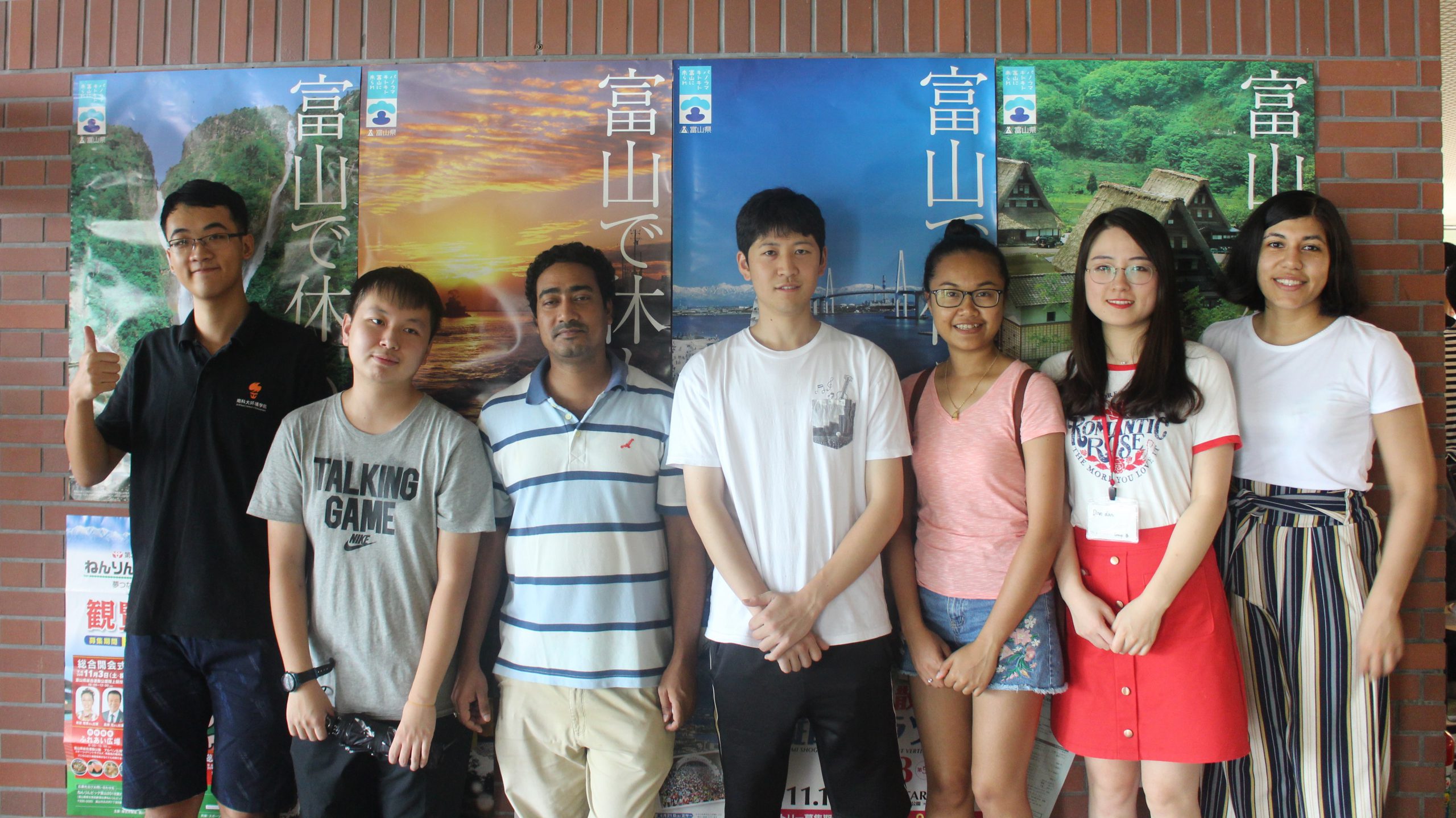 In this course, I was able to acquire not only knowledge about international environmental issues, but also the ability to communicate my opinions in English and to solve problems in cooperation with people from various nationalities through lectures and training. The environmental technology regional training program was a particularly good experience for me. During the training, I spent a week doing group work with international students of various nationalities from Southeast Asian countries, China, India, and other countries, eating and sleeping together. In the group work, I was appointed as a leader and had to say my opinions and was often asked to organize the team when there were conflicting opinions. However, I was unable to fulfill my role as a leader because I did not have English language skills and had never had the opportunity to organize people who have different backgrounds. Through the training, I became acutely aware of my lack of English and leadership skills, and I began to think that I would like to be active overseas, working with people from various nationalities in the future. Currently, I am fortunate enough to be involved in the design and development of overseas infrastructure, and I feel that what I learned in this course is very important whenever I work with overseas engineers.
In the future, globalization will continue to advance in research and business, and people who can be active internationally will be in high demand. This course offers many opportunities to acquire English, problem-solving, and leadership skills so that you can become such a person, and I hope that you will actively participate in this course.
Name: Ms. SORN Sovannlaksmy
(International student from Cambodia / Completed the 2018 Environmental Technology International Course)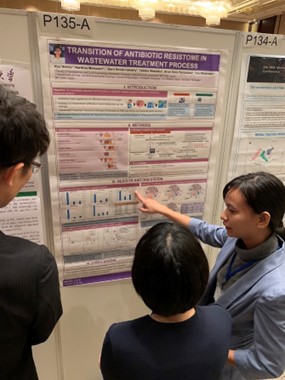 Attending ETIC program during my master's degree at Kanazawa University, I gained a lot of knowledge and experiences. This course allowed me to interact with Japanese students and other international students along classes, summer study camp, internship, oversea study, and research activities. During those activities, I enjoyed learning teamwork and exchanging opinions about environmental issues in our countries to explore the alternative solutions. English was mainly used in this course which permitted me to understand deeper in the assigned tasks. Meanwhile, a basic Japanese class provided by Kanazawa University was offered to improve living quality in Japan. In addition, cultural classes were also provided to understand better about the richness of Japan. During this program, I've made many friends from Thailand, China, Vietnam, Indonesia, Bangladesh, and Japan. I am so grateful to learn their cultures and share good moments together after school. Overall, studying abroad specifically in Kanazawa University under ETIC program has taught me not only technical skills but also to be more independent, collaborative, and open-minded about different cultures, religions, and lifestyles.
Name: Ms. Inoue Ayumi
(Japanese student / Completed the 2013 Japan-China-Korea Environmental and Ecological Technology Special Course)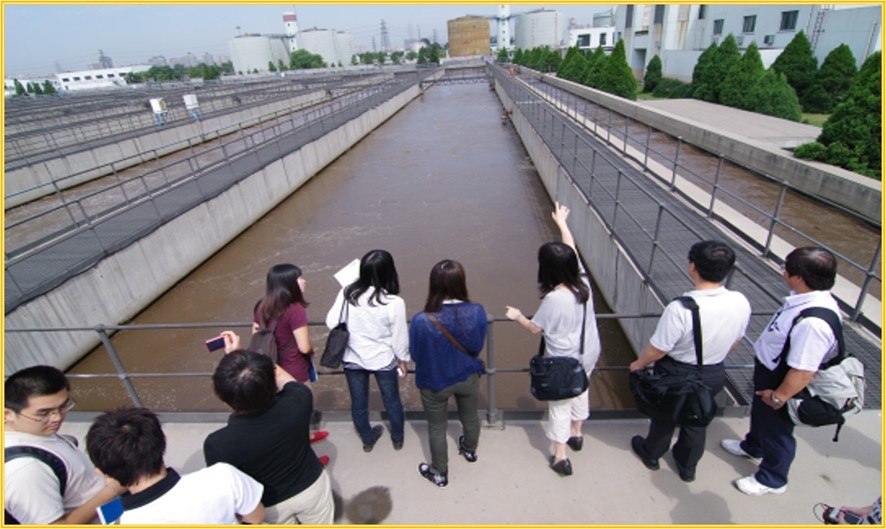 I decided to take this course because I wanted to learn about environmental and energy issues from a global perspective. I was also very attracted to the fact that the curriculum included international activity in Asian countries. The activity that left the strongest impression on me was the tour of the local waste-water treatment facility in China. I was surprised at the local situation and I realized once again the richness and beauty of water in Japan. At the facility, a local guide explained about overview of the waste-water treatment system in Chinese, but I did not understand what he said very well. At that time, Chinese student of our course translated it Chinese into English. Thanks to him, I was able to deepen my understanding of water pollution issue in China. I think this point is the merit of this course, which consists of students from various countries. As an aside, I became close to the local student who I learned together and I kept in touch with her after the training. It is still a good memory to visit Shanghai in order to meet her again and eat Xiao-long-bao together during the summer vacation. In this way, I feel that making friends in various countries is the real pleasure of this course.
Nowadays, many companies have begun to actively consider environmental protection toward the realization of SDGs "sustainable society". I am also involved in the development of environmentally friendly products at my current workplace, and I feel that what I learned in this course is really useful. As a first-year student in this course, I had spent a very valuable time that I could not experience in other regular graduate school programs with my teachers, coordinators and colleagues. I am still really grateful to them. I hope that everyone who studies in this course become global human resource who can play an active role all over the world in the future.
Name: Mr. ICHINOSE Kentaro
(Japanese student / Completed the 2014 Japan-China-Korea Environmental and Ecological Technology Special Course)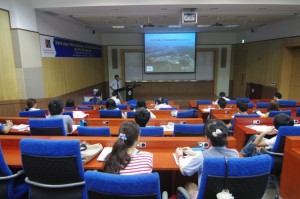 I decided to take this course because I wanted to have experiences that are not available in other regular graduate school programs, and to grow through those experiences. The activity that left the strongest impression on me was the training in Korea, during which we had group discussions on environmental problems in English. International students from our school and the local students spoke English fluently, and I felt the need to improve my English language skills. For this reason, I began to make presentations in English as part of the seminars of my laboratory. I feel that by doing so, my English communication skills have improved.
Also, during my frequent interactions with a great number of foreigners, there were many occasions when I felt the difference in the level of awareness we have; foreigners have a much higher awareness. The following comment that was made by an international student in one of my classes left a strong impression on me: "After obtaining advanced environmental technology skills in Japan, I want to leverage those skills in China. I don't simply want to make environmental changes in the country; I want to change Chinese society itself." Since then, I became interested in companies that are actively expanding overseas, and in learning and having various experiences in a foreign setting with differing cultures and technologies.
The activities carried out in this course enabled me to enhance my English language skills and my motivation to work overseas, and in a sense changed my life. I think there are countless opportunities for students who are currently studying or will be studying in this course, and I hope that each one of them will achieve personal growth in their own unique way.
Name: Ms. LEE Jungen
(International student from Korea / Completed the 2013 Japan-China-Korea Environmental and Ecological Technology Special Course)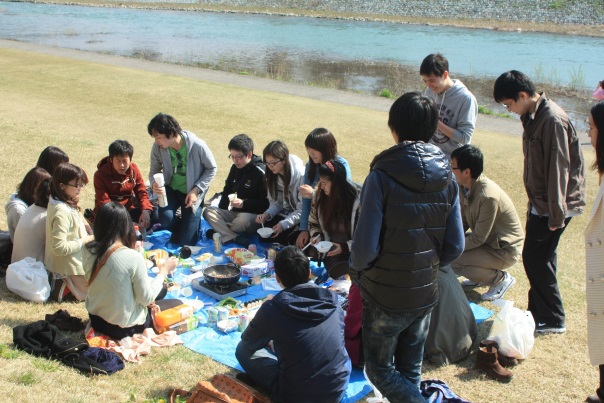 I learned about the present environmental situation of Asia and international trends through classroom lectures and visits to Japanese companies and facilities. In addition, the internship program has given me very valuable experiences; I have gained a better understanding of Japanese environmental technology, as well as Japanese corporate culture and manners. These experiences have improved my business skills. Although I am busy conducting research and attending lectures, I am able to take trips on weekends and form relationships with Japanese students and other international students. My daily life here is both fulfilling and fun.
Name: Ms. GU Tingting
(An international student from China / Completed the 2013 Japan-China-Korea Environmental and Ecological Technology Special Course)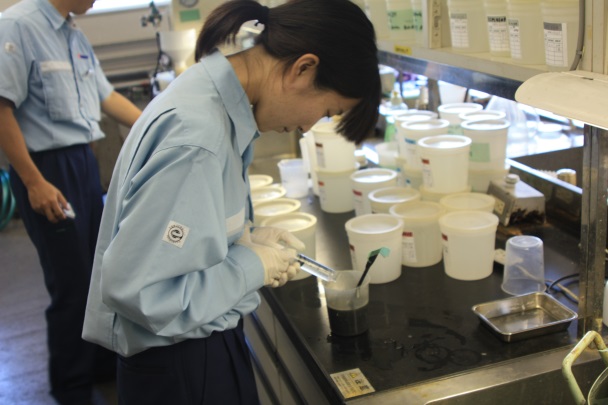 When I look back on my two years at the university, I realize that my experiences during that time were fruitful, and have led to self-improvement.
Since I had almost no language skills when I came to Japan, the comprehensive Japanese Language Course offered by the university was very helpful for me.
During the first six months, I could not communicate with Japanese students, and I did not fully understand the details of my research due to my lack of language skills. This prevented me from advancing my research activities. However, I made progress during the second half of my first year in the Master's program, and subsequently was able to enjoy my research very much.
I participated in a study trip to Korea, where I learned about that country's environmental problems and technology, and participated in discussions about the environmental problems of China, Japan and Korea. After the overseas study tour, I participated in an internship program. I learned how to use the specialized knowledge I had acquired, and gained an understanding of the atmosphere of Japanese companies.
I think that life here is very enjoyable. Kanazawa is a very convenient and comfortable place to live. Thanks to the support of school advisors and other international students who have stayed here before, my life here has been pretty much trouble-free. I will continue to study at this university to gain more specialized knowledge and improve my Japanese language skills.