General Outline
Purpose of the Course / Human Resources to be Developed / Outline / Features / Introduction Video
Purpose of the Course
The rapidly growing Asian and African regions are expected to continue to grow long into the future as the core of global economic stability. However, these regions are currently facing the serious threat of increased environmental degradation. This problem is caused by the increase in resource and energy consumption resulting from industrial development and population increase. In order to eradicate this threat and to realize a sustainable global society, it is crucial for each country to devise its own unique industrial development scenario based on its circumstances, and to subsequently develop or adopt environmental and energy technologies. As the global leader located in East Asia, Japan is responsible for stimulating green innovation in developing regions. The purpose of this course is to foster human resources for the global community who are capable of developing Japan's superb energy- and environment-related technologies into technologies suited to other countries' circumstances by taking regional characteristics and culture into consideration, and capable of deploying such technologies in an international setting.
Human Resources to be Developed
In addition to possessing advanced knowledge and skills in environmental technology, globally active environmental engineers must have the ability to understand the culture and history of each region, and based on that understanding, to design and present technologies and processes suited to the regional communities. This course produces human resources capable of playing active roles in the global community, who possess
Provides advanced environmental engineering knowledge and skills.
Provides advanced communication skills that allow students to collaborate with engineers from other countries and understand the historical and cultural backgrounds of the local residents who will be the users of the environmental technologies.
Trains students to become human resources who will play an important role in global society; they will have the leadership skills that are required to propose technologies and processes to deal with cross-border environmental issues, which are tailored to regional circumstances.
Furthermore, this course produces human resources capable of serving as a bridge between Japan and other countries at local sites of environment- and energy- related research and technological development, and capable of contributing to the development of sustainable societies through cross-border collaboration.
Outline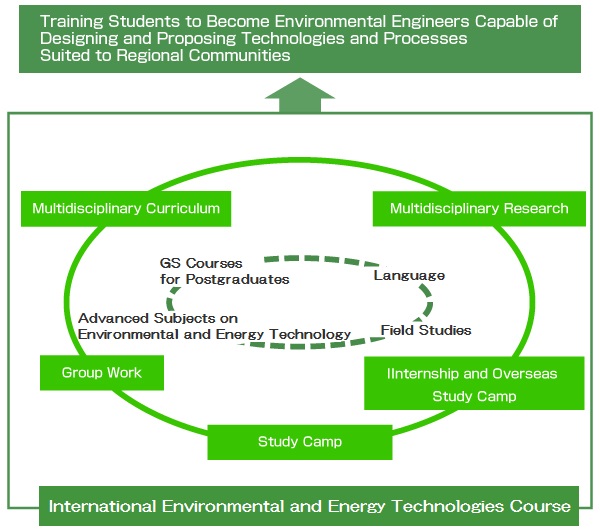 Features
Feature 1. Intensive Training Camp that Takes Advantage of Regional Characteristics
Experience-based regional training through industry-academia-government collaboration is offered in the Noto region. This training equips students with knowledge and skills regarding the relationship between people and technology
Development of a broad perspective

by learning and experiencing the use of technology in a region and the impact it has on society
Development of the ability to identify and resolve problems through industry-academia-government collaborative training

Development of communication skills

through camp-style training
Feature 2. Training in Collaboration with Foreign Universities and Businesses
Use of the collaborating professor system and the business consortium built through the Japan-China-Korea Environmental and Ecological Technology Special Course
Overseas Study Camp:

Development of communication skills and the ability to identify problems

Environmental Technology Internship*:

Acquisition of knowledge and experience regarding advanced technology and on-site technology development, development of problem-solving skills
*International students who wish to take the course "Environmental and Energy Technology Internship" are required to have passed level N2 of the Japanese-Language Proficiency Test as a general rule.
Feature 3. Classroom Training Based on the Group Work of Multinational Students
Development of

advanced communication skills

including discussion skills
Cultivation of

leadership qualities

, mutual understanding and respect for foreign cultures
Feature 4. Lectures in English
The lectures for this course are conducted in English.