Introduction to Kanazawa
HOME>
Introduction to Kanazawa
Introduction to Kanazawa / Living in Kanazawa
Kanazawa balances the unique character of its cultural history with the conveniences of a modern city.
A city of tradition and beauty
Kanazawa began to take shape during the Edo Period (1603-1867) at the hands of the Maeda clan who ruled the region. In its prime, the city was Japan's 4th largest city after Edo, Osaka, and Kyoto, boasting a population of 1,000,000. The heritage and scenic beauty from this prosperous time remain in the city where they continue to attract people from all over world.
This rich culture has permeated the lives of citizen while the policies of the Maeda clan continue to raise citizens' interest in arts and crafts. The multitudes of traditional industries live on in the new generation.
A city of colleges and students
There are 19 institutions of higher education in the Ishikawa Prefecture, giving it the 2nd highest per capita after Kyoto, and the 5th highest number of university students. This rich academic tradition goes back to the Meiji Period, when the government began opening schools to educate the future elite of the country. Kanazawa University began as the fi rst such institution established on the Sea of Japan, which attracted the brightest and best students in the literary arts.
A city of comfort and convenience
Ishikawa Prefecture has a population of 1,160,000, and 450,000 call Kanazawa their home. As the capital city located in the center of its prefecture, Kanazawa is the heart of politics, culture, and economics for the Hokuriku Region. The surrounding mountains and oceans aff ord breathtaking ambiance, while its fresh seafood and indigenous local vegetables tantalize your taste buds.
A city rich in the expressions of nature
Kanazawa enjoys four clearly defined seasons that paint the already stunning landscape with vibrant strokes. Springs and summers are pleasant, and the year-round moisture has seeped into the industry, crafts, and culture.
A city rich in tourism and the arts
In January 2009, several government ministries certified Kanazawa and four other cities as Level One Historic Cities. In June of the same year it became the 17th member of the UNESCO Creative Cities Network, the 3rd in Japan after Nagoya and Kobe, for it s renaissance in the arts and music. Its professional performing group, the Orchestra Ensemble Kanazawa, has earned high praise for its performances overseas.
A city of abundant nature and traditional architecture
Another factor that led to the fl ourishing of traditional culture in Kanazawa is the region's distinctive scenery in each of the four seasons. Seasonal changes keep life interesting ? in spring cherry blossoms color the city pink; in summer sweetfish dance in clear streams; in fall crimson foliage resembles swaths of brocade; in winter the world turns white. In addition to two large gently fl owing rivers, Saigawa River and Asanogawa River, a network of water canals runs through the city, making a pleasant babbling sound. Because Kanazawa was not damaged by the war, it still has historical and cultural buildings that are over 400 years old. When you stroll around town, you will fi nd old temples, shrines, and merchant houses with lattice doors. Because Kanazawa has many sightseeing spots such as Kenrokuen Garden ? one of the three most beautiful gardens in Japan, Kanazawa Castle and samurai houses, it is also a tourist city.
Living in Kanazawa
FOOD
We have everything, from well-stocked supermarkets to ethnic dining.
Preparing your own meals with the clever use of supermarket ingredients is the basis of a healthy and economic diet. But who wants to eat at home every night? Around campus you'll find no shortage of restaurants that fill you up without emptying your wallet. Make each meal an adventure!
 Living Expense (Example of Breakdown per month)
Rent : 30,000 yen ~ 50,000 yen
Utility (Electric/Water/Gas) : around 10,000 yen (depends on the season)
Food : 25,000 yen ~ 30,000 yen
Other expense : 30,000 yen ~ 40,000 yen
SHOPPING
Foods stores, apparel shops, electronics stores and pharmacies have your needs covered.
Foods stores, apparel shops, electronics stores, pharmacies, and hardware stores close to campus have everything you need at affordable prices.
DOWNTOWN
Town guide close to the heart of downtown.
Getting from campus to where the action is couldn't be easier. Kanazawa's colorful downtown area is the talk of the town.
TRANSPORTATION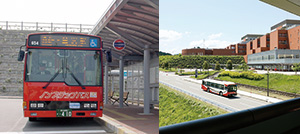 A student's best friend!
Kanazawa University has excellent access by public bus, and there are 3 bus stops on campus. This makes the access to campus very simple.
HOSPITAL
Peace of mind in emergency !
National Health Insurance
All foreign nationals who stay in Japan longer than 3 months are required to join the National Health Insurance system. This insurance covers about 70% of the medical charges, including hospitalization.